22 Jun

Artes Magazine – JUNE 2020
Artes Magazine – JUNE 2020
Artists for decades have been interested in exploring the sculptural and reflective properties of light and how it affects an object within the space it occupies.  Larry Bell, one of the artists associated with the West Coast group, "Light and Space," best known for his glass boxes and large-scaled illusionistic sculptures, created a wide range of work based on the theme of light and reflection beginning in the 1960s.  Throughout his oeuvre Bell used the language of minimalism and geometric abstraction to construct his illusionist fabrications where the existing space became part of sculptures.  The exhibition "Transparent, Translucent, Reflective, Refractive" at Yun Gee Park Gallery, in Tucson, Arizona, displays the work by Collen Quigley, Zak Timan and Moira M. Geoffrion who continue along this path of investigation.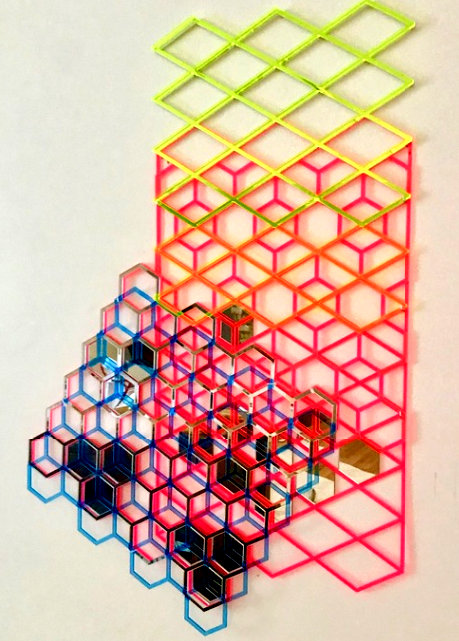 This is a subtle exhibit in which one observes artists' explorations of light, color and reflection made in unlike methods and materials. Colleen Quigley, a multi-disciplinary artist, throughout her career has cut across painting, sculpture/installation, ceramics and acrylic.  She appears to be interested in the object and how it's immediate setting are interconnected.  Her brightly colorful geometric constructions are the most formal of the three artists in this show.  Although three-dimensional in scope, the majority of her pieces hang on the gallery wall, revealing reflections and shadows created by the juxtaposed planes of the translucent vibrant components.
The technique of layering is important in this art and Quigley effectively places different acrylic forms on top, underneath and beside one another.  In some pieces the varied parts appear to dissolve within the stratums yet are enhanced by her technique of repeating shapes in a number of sizes within the composition.  Through this method she builds visual interest, depth, and complexity.  Two notable works are Divergent, and The Fabric of Time—both resemble a molecular diagram that is bristling with electronic current produced by Quigley's use of color and the placement of layered parts.
Zak Timan is a mixed-media sculptor known for his imaginative glass constructions. According to Timan "My sculptures have a relationship with jazz music."  However he never illustrates an event or narrative but instead captures an essence of radiant energy, hoping to invite a viewer to step out of their everyday world into the realm of imaginative wonder.  Anger, 2020 comprisedof a Fresnel lens, glass oil lamp and steel reveals his ability to bring dissimilar materials together so to create a simple yet powerful form.
Framed in black, a circular shape with a black grid in the center functions like a window through which one is allured by the emotive power of its prismatic color akin to the William Turner's bursting translucent contrasts of light and color.  Sadness, 2020 is a circular sculpture in which an LED light is suspended in oil on a metal base.  This round, black glass sphere, only 13 inches in diameter, commands a dynamic presence.
Moira M. Geoffrion's art is mysterious, arresting and striking.  Geoffrion is a seasoned artist whose art works span a spectrum of mediums and styles.  Throughout her work she continues to combine information derived from personal experiences and the immediate environment she inhabits in the Southwest.  An enigmatic sensibility pervades the many photographic acrylic constructions on display filled with symbols, metaphors, and imagery taken from real life.  In her judiciously formed translucent shapes she fuses dissimilarities, within the interlocking multilayered dimensional planes.
Although the works on view all have been made within the past few months, the origins of her method of using fragments of multiple photographs on acrylic go back to 2007 when she had an exhibition at the Altes Museum in Moenchengladbach, Germany.  According to Geoffrion, "In subsequent shows over the years I have adhered the translucent imagery to Plexiglas so that I could then make rigid 3D pieces in which internal lighting is affixed. This unique light source provides an internal glow to these "plexi" sculptures creating a sense of energy while illuminating plant and nature forms and textures, which, because of the complex layering of images, becomes intriguing and somewhat unrecognizable."
In each of these fabrications boundaries appear to dissolve yet fuse.  Time becomes transfixed in the kaleidoscopic sculptures with veiled narratives co-existing.  A gallery wall comprised of 16 small-lighted pieces is impressive.  Even though each individual sculpture operates as its own separate entity, this entire assemblage could also be conceived as an installation.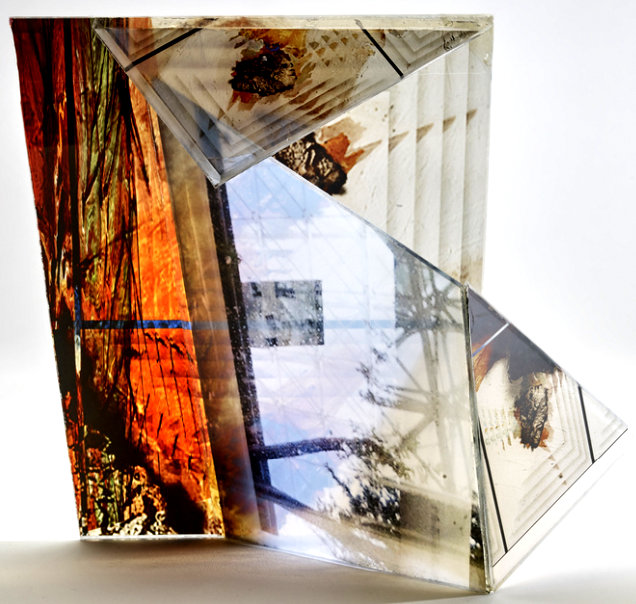 The Fragment of My Imagination #1 is an eye-catching work that evinces an architectural sense with its fitted triangular panels.  The linearity of the amassed elements are enhanced by a stunning orange vertical section adjoining a transparent protruding clear unit on which the striated pattern on the upper area similar to ancient stairs turned sideways is repeated.  Opposite in lightness to this work is Fragments of My Imagination #12 that resembles the burning blaze of a fireplace.  Despite the warm glow emanating from its interior lighting, it is a more somber work manifesting a haunting sensibility.  The Fragments of My Imagination #14, looks like a hexagon turned on its side with its top detached however, where the missing part is absent another emerges in the space.  Compositionally this piece is enchanting because each see-through surface plane lets one observe scenes along side, underneath and on top of the other.  This piece comprised of organic pageants is accentuated by light and shadows.
Included in the exhibition are some additional pedestal pieces by Geoffrion.  Nature's Kaleidoscope bears a semblance to a kiosk on which some information is missing because of the blank spaces throughout the metal surface.  The vertical steel horizontal panels serve as the structure for the flattened acrylic planes displaying organic motifs.  The play of shadows on the wall and the radiant light from within the edifice adds to its allure.
Rich in depth, visually subtle, her work beckons one to linger and explore.  A type of secretive language of abstraction and representation is evident within the bifurcated and quixotic structures.  Additionally a type of encapsulated energy appears to pervade this emblematic work that evokes intense curiosity.  While sympathetic to the problems of the world in this era of political strife Geoffrion prefers to celebrate idiosyncratic invention and refutes negativity.  Her art is evocative of private puzzles requiring time to decode hidden messages presented on transparent shapes.  There is no obvious message in her art.  One might conclude that perhaps she has embarked on a personal quest of investigations, seeking an understanding about the collective unity of life and the concurrent presence of dissimilarities.  It is the open-endedness of this work that is inviting.
The use of color and harmony by all three artists in this exhibition is comforting. When one looks at non-representational artwork one's brain unconsciously quests for signs of rhythm and order in trying to make sense of what is presented.  Collectively this show in the time of COVID 19, with art devoid of fear, pain or strife affords viewers a positive alternative perspective.
By Elaine A. King, Contributing Art Critic
Yun Gee Park Gallery, 4226 E. 2nd St., Tucson, Arizona
"Transparent, Translucent, Reflective, Refractive," through late July 2020.